A woman's elegance begins with the underwear she is wearing. For a woman important is the way she feels confident in her, and regarding the lingerie, she focuses on the quality not on quantity, that it's better to have 2 sets of quality lingerie than 5 pairs of bras and panties that do not match each other, bought in haste.
So why is so important for a woman to wear underwear? Does it make o woman, even that she has plus size to feel sexy?
Most of the commercials underwear focuses on how the women body underwear is viewed, especially on how the woman looks like to the around persons. Each of these campaigns promises is that every woman can look hot and sexy for their partners if she is buying only those stores underwear. This is not a bad approach, because every seller wants to sell his merchandise and every woman who wants looks good, this is right. But these commercials are losing the exact picture: the sexy lingerie is not just about how woman look. It is also, about how woman feels, even if no one sees what wear under your clothes. The lingerie gives every woman a way to express her sensual side of femininity; doesn't matter how the public environment works or how her face should be. It is a secret between you and your lingerie drawer, a secret that makes her walk a little straighter, with a smile a little wider and even more confident. This is a catchy idea for every plus size women. The plus size women should not be afraid to try to express their sexuality and wear sexy plus size lingerie because every woman is beautiful and this should be a splendid experience!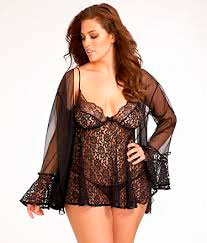 Even during a recession, sexy underwear is an affordable indulgence. A bra La Perl might be in the annual woman's budget, but a pair of black net stockings is for sure in their monthly budget. And if nightgown from Agent Provocateur might break the bank account, for a few pairs of sexy colorful panties sure do not have to break the piggy bank. In an economy in which deprivation is the new normal way, the sexy underwear can provide instant and accessible gratification, in much the same way as cosmetics.
Why do plus size women wear sexy underwear?
To feel feminine and delicate – wearing sexy plus size lingerie she feels a real woman.
To a appreciate more – sexy linens are not just for older women or those on the fashion runways, they  are for all women who want to appreciate how they look, regardless of breed, age, weight and culture.
In order to boost her confidence – when the plus size women are learning to accept and love their own body as it is, it is impossible not to feel proud of her as a woman, and not least to increase their confidence in it.
To stay in the best shape – today sexy linens not only look great, but also have properties to improve body shape which helps plus size women to look in their best way, whatever they wear;
To be more attractive to her partner – a sexy lingerie always bring an extra couple's relationship as a woman wearing sexy lingerie shows a woman confident in her that she loves as being so attractive to her partner.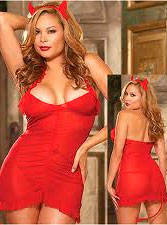 That does not mean that women should be as naked as possible, just dressed to show their part of the physical qualities. A plus size girl in jeans and shirt, if the songs are well chosen and worn an appropriate style can be as sexy as the thin one in short dress and with large décolletage. In most cases, the attitude that makes the difference and the sexy plus size lingerie will be the icing on the cake.
Though it is important, to wear plus size underwear that looks sexy and that makes the plus size women to feel good. Who says that a plus size woman cannot be sexy in a bra and cotton bikini? The partner, boyfriend or just a simple man can have a very pleasant surprise, coming out of the shower and will be waited wearing his sexy favorite corset and, necessarily, high heels.
Even if the plus size woman will not make a rule of wearing erotic lingerie it would be better to try as often is possible. It will do very well, because it will increase the self-esteem.
No need to worry about appearance: the man has chosen and he will be delighted to see the loved woman wearing provocative plus size lingerie that emphasize her forms and mask her defects.
The one thing that is valid for all the women, not only for the plus size ones it is that the sexy lingerie has to fit and how can surprise the loved one in the best possible manner.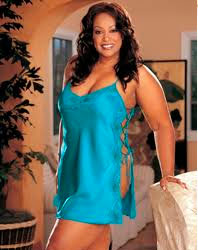 There are plus size women wearing erotic lingerie every night for their beloved and others that keeps for special occasions. There are also women who have a genuine collection of lingerie in all colors and possible materials. The choice each plus woman makes regarding the sexy plus size lingerie and her colors it says something about the person who wear it:
Beige – if all her intimate underwear is this color, the plus size woman is a conservative woman.
White – if this is her favorite lingerie color is giving the impression of a woman for whom cleanliness, innocence and purity prevails.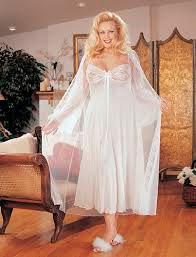 Black – tells that the plus size woman is naughty and easily accepting challenges.
Red – if this color prevails in the plus size woman underwear, then she's a passionate woman.
Pastels – if pink and blue colors are her favorite colors, then she's an extremely playful, who wants to feel young and childish.
But, no matter color a plus size woman will choose regarding her plus size lingerie the only thing that matter is that she never know what will happen later, if she's having an appointment or not. That is why she has to be ready and prepared for any challenge!